She's a Graduate From Georgia Southern University & was a Four-Year Captain of the Co-Ed Cheerleading Squad for the Eagles. Meet Queen City News Sports Anchor & Reporter, Carla Gebhart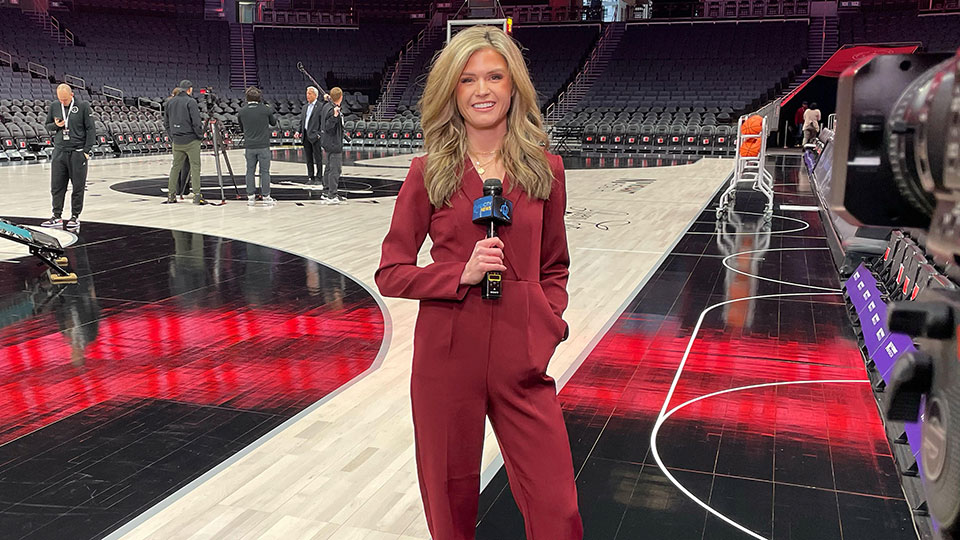 Q: While in high school, did you have any idea you wanted to go into broadcasting?
CG: I have always wanted to be in sports journalism. I was probably more committed to the idea when I was in high school. When I got to college I started to think, "Is this actually a realistic career choice?" and I sort of talked myself out of it. I majored in Communications and minored in Journalism but truly loved my major. I got to pick most every topic that I wrote on in my research papers, and I always chose sports topics. I thought maybe when I graduated college, I would continue my education and go back and be a professor. That still sounds fun, but I'm glad I went down this path and took a chance. 
Q: Did you play a lot of sports growing up?
CG: Not really. I watched a lot of sports. My brother is eight years older than me, and I would tag along to all his games. I did gymnastics when I was younger. Once I got into middle school I was all about cheerleading and tumbling. When I got into high school is when I got more into playing. I played tennis, volleyball, basketball, and cheered. I always wanted to join the golf team and track team, but already had a full plate at the time. 
Q: How did you prepare for your first anchor job?
CG: I really didn't. I got my foot in the door with a local television station, learned the ins and outs of working a camera, writing, editing. I only stayed in that part-time role for a few months and then I went to work for a sports network afterward. Some of my first times on air were on live television—thank goodness they were all gracious while I learned. 
Q: Can you share with our audience one of your most memorable events you've covered?
CG: I think my first Daytona 500 was incredible. You always see these events on television, but being there in person was a different experience. The access you get with NASCAR is some of the closest you will get with any sport you cover. People that don't even have a strong opinion on racing will be at the Daytona 500—it's as big as it gets in that world—to say I've worked at that race multiple times is pretty cool. 
Q: Do you have any advice you can share for those women who may want to pursue a career in Sports Broadcasting?
CG: Go for it and be yourself. It's kind of interesting to tell someone to be themselves, that's something that sounds pretty simple, but sometimes when the camera comes on, you try to be "what you think you should be," and that is hard to keep up over the long haul in broadcasting. Find your voice and be yourself—that is the most marketable trait that only you have. 
Q: What's your advice for women in male-dominated fields?
CG: I try not think about this, I've worked with a lot of great males in sports media. Yes, there are some that may try to question your position, but they make up for a small percentage at least in my experience. I've always just been myself in all kinds of groups and that always works best. There's no greater compliment in a male dominated field than being told "your one of the boys" – I know some may feel differently about that, but I take it as a compliment. 
Q: Tell us how you manage your work life balance with your busy schedule.
CG: This is something that is always a work in progress as it is for most people with jobs. When I'm at home, I try to do all the things—laundry, cleaning, cooking, playing with my two children, making sure our home is stocked up for the week. When I'm at work, I try to focus on the tasks at hand, but I always keep my children in mind. If I leave earlier for work, I'll try to run home for dinner to see them. If my work schedule won't allow that for the week, then I facetime them at night from the office. Where would we be without Facetime in our culture? I am also thankful to work for an employer that allows me to do all these things. Work life balance for me is all about taking one day at a time. 
Q: What's the most interesting thing about you that we wouldn't learn from your resume alone? 
CG: I have worked my way up into every position I've ever had. I started with a small role or a foot in the door, and I've been able to turn it into more. Nothing is ever given, and that's certainly been the case for most of my career. 
Q: Which woman inspires you and why? 
CG: It sounds like an easy answer, but it's my mom. When I think back to how I was raised and what she was able to accomplish as a working mom and wife, it makes me wonder how she did it all. She not only did that but poured into me; I got a front row seat to what makes a great mom. 
Nine Things About Sports Anchor, Carla Gebhart

1. What's your favorite thing to do in your free time? 
Workout and spend time with my children
2. Among your friends, what are you best known for? 
The levelheaded one, the "mom" of the group
3. What's your favorite international food? 
Does sushi count as international? It would be that. 
4. Are you a morning person or a night owl?
Technically both, since I have to be with my job, but I would love to be a true morning person.
5. Favorite City?
Savannah, GA

6. Do you read reviews, or just go with your gut? 
Definitely read reviews, but also know people are going to complain no matter what it is, so take it as a grain of salt.
7. What's your big passion? 
My love for Jesus
8. What is your favorite game or sport to watch and play? 
I love watching college football, and I like playing tennis. 
9. What would your perfect Saturday be like? 
Workout in the morning, and then watch college football games and grill out all day with family.