Her Vision is to Inspire People to Be Healthy, Wealthy & Happy. She is a Chiropractic Physician, Motivational Speaker & Radio Host A Conversation with Dr. LaTanya Bowman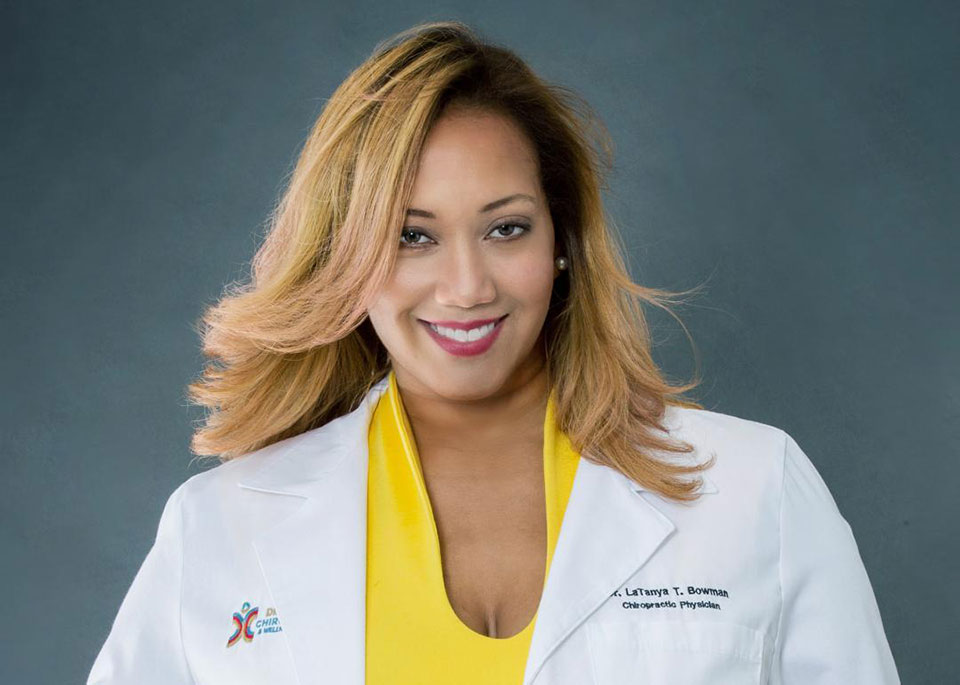 Q: When did you know your career path would be as a Doctor of Chiropractic?
LB: I began my path of health careers when I was in the Athletic Training program at North Carolina Central University. As I was receiving my Bachelor's Degree in Athletic Training, I was exposed to different health fields throughout the program. Working at Wake Forest University, during one of my internships, one of the sports medicine staff was a Chiropractic Physician. The doctor was truly a wonderful inspiration to me and gave me great guidance throughout my decision making on my next steps. During my time at working at Wake Forest University, I worked with their football program, and saw firsthand the benefits of chiropractic care. For the injuries of the players I worked with, the Chiropractic Physician was getting my players back onto the field quicker than the other healthcare providers. This was my "Ah-ha" moment in which I knew chiropractic was the filed I wanted to be in.
Q: Tell us about your education?
LB: Chiropractic is a 4 year doctoral program to complete, which requires a 4 year undergraduate college education prior to admission. As a chiropractic student, you do your residency during your 4 year doctoral program. You have 4 national boards you have to take, including a board exam that must be taking for each state you are practicing in, and pending on each state the passing scores on your national exam and state exam may vary.
As Doctor of Chiropractic we are considered Primary Care Physicians, therefore our training is similar to medical students, and students that are in school for Doctors of Osteopathy. Chiropractic students' hours of education is approximately the same, as medical students, but where the chiropractic model is based on the philosophical principle that the body is a self-healing and self-regulated organism. Therefore, we are trained to treat the body from the "inside out" vs "outside in", trying to find the cause of the problem and not trying to treat the effect. Our schooling education is the same, but this is where our philosophical principles of how we treat the body is different, for as chiropractors we treat the dis-ease, not the disease, and finding the cause of the problem in order to heal the body naturally.  

Q: Can you share with our audience of the benefits of Chiropractic treatment?
LB: Chiropractic care can improve a person's overall quality of life. As Chiropractic Physicians, we not only treat the spine, but we treat the nervous system, in which the overall goal is to improve musculoskeletal health. 
Some benefits of chiropractic care: 

Improves digestion
Boost Immunity
Lower blood pressure
Helps with pregnancy
Decrease stress
Increases flexibility, which reduces injury (Injury prevention)
Decreases degeneration of the joints and connective tissue (arthritis) 
Q: Do you have a success story of a patient you can share with us?
LB: I recently had a patient who came to our office presenting with migraines. The patient had been complaining of migraines for years, even during her childhood. She had been treated with various medication and alternative treatments throughout her childhood, but never had any improvement. When she begun treatment at our office, I found several biomechanical issues that we addressed throughout her chiropractic treatment. By her fifth visit, the patient presented with no migraines. When she came into our office, tears wear coming down her face, in which she stated to me, this was the first time in her childhood and adult life that she woke up with no migraines, she never knew what "pain free" felt like until now. This is what Chiropractic is all about, and makes you realize your purpose.
Q: First congratulations on receiving numerous awards for your dedication and work in Charlotte. Can you tell about your invitation to the White House to attend The Entrepreneurs & Innovation Summit?
LB: Thank you so much, it was a wonderful honor to be invited to The White House. The Entrepreneurs & Innovation Summit is a program to bring together community leaders and entrepreneurs to discuss best practices for revitalization, opportunity zone investments, and collaboration at all levels of government and business. Topics included small business contracting, access to capital, and federal programs for opportunity zones. The experience of being around like minded individuals, entrepreneurs, large corporations, governmental officials, sharing ideas, thoughts, and collaborations was truly inspirational. As a small business owner, growth is important, and in order to have growth you have to be around people that are already there or growing with you. I was grateful and it was an extreme honor that The White House asked me to be a part of a joining team of collaborative minds.
Q: Can you tell us how you manage your work life balance?
LB: I always tell people there is no such thing as "balance". Balance is all within the mindset and is a matter of what you place as a priority at that time. If you keep that one thing as the main priority, it shifts the scale. So therefore, you have to place weight between the two scales and shift them back and forth. One key component that I find myself doing, is when I walk into my practice, I stay focused on my office, but when I leave, I do not bring work home with me.
As an entrepreneur, you can find yourself working 24 hours a day, and you have to learn when to STOP. I even begun to set my alarm clock at night, (this idea came from two awesome small business owners that I know personally), for when 10:30 pm hits, my alarm goes off, telling me it's time for bed. 

One of my key mottos: Always remember, you have to do what is necessary to make yourself happy, but don't forget to make sure to enjoy life to its fullest. It's not about working hard, it's about working smart, you get better results that way.

Q: Tell us which woman inspires you and why? 
LB: My mother is my inspiration, she has always guided me and supported me in all of my endeavors. My mother was in education and taught high school, for that truly molded me and that's where I learned about organization, discipline, projecting your voice to be heard, caring yourself in a professional manner, and most importantly how to talk to others and empathize with them. As a health care provider, and as a business owner, these characteristics are extremely important for success. These characteristics are critical for business building, for when you are your own boss, you have to be discipline.
Q: What are some of the challenges you feel women face today?
LB: As women we still continue to face different obstacles, and we face new challenges each and every day. We still face those glass ceilings, even as we get into higher positions, we are always questioned, if we are "qualified", or are we too emotional, can we have a "work life balance" if we are married and have children, and/or even if you are a single mother how can you successfully run a business or corporation. 
Stereotypes, being too feminine can mean you're "weak", being too masculine means, you're overpowering and not a good fit for a predominately male environment. Being a woman and feminine does represent Power, Feminine Power is the best thing about being a woman, and we need to learn how to embrace that power, and how to use it, and channel it to break those glass ceilings. Once we understand that power, we will be limitless.

Q: What advice would you give to young women who want to pursue a career as a Doctor of Chiropractic?
LB: I always tell people to shadow and get a mentor. This is so important, because that's the only way you will truly see if this is what you want to do. Looking at things from the outside in, is not the same once you get your feet wet. So, you have to investigate, ask questions, and experience your future career to make sure this is what you truly want to do.
Five Things About Dr. LaTanya Bowman

1.What celebrity would you like to meet at Starbucks for a cup of coffee? 
Jennifer Lopez
2. What's your favorite holiday?
Christmas
3. If you could go back in time, what year would you travel to and why? 
1996, my senior year in high school (most favorable memories)
4. What app can't you live without?
Instagram
5. Aside from necessities, what one thing could you not go a day without?
Perfume (I always have to have a beautiful feminine scent)