A Conversation With Founder, Retailer & Huntress of Dressing Rooms Interiors Studio LLC, Ariene Bethea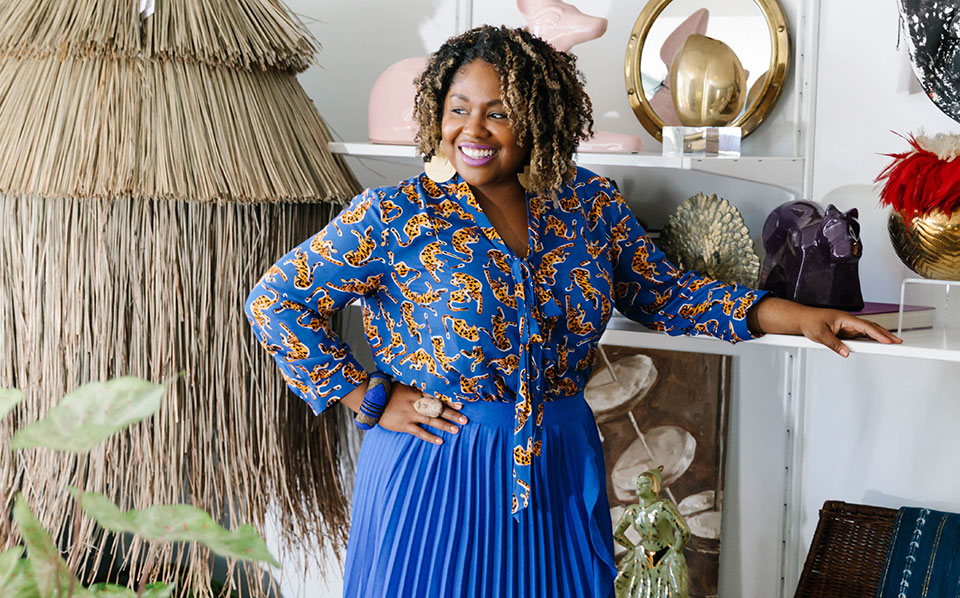 Fueled by the thrill of the hunt for one-of-a-kind boutique vintage pieces, Ariene has a flair for mixing vintage with modern day furnishings to create bold culturally inspired designs.
Q: For those in our audience not familiar with Dressing Rooms Interior Studios, tell us about it and how it all started?
AB: I started Dressing Rooms Interiors Studio in 2011 after being laid-off from my corporate HR job. Walking into a sea of gray cubicles on a daily basis was soul crushing. Wearing patterned suit and bright tights to work, I remember walking down the hall one day thinking, "this can't be all this is for my life." I was motivated by the desire to do something creative, something that got me out of the gray box. I took small steps while at my corporate job, like starting a blog in 2009 and selling small items on Etsy on the side. The layoff was the push I needed to jump.
I've always been interested in design, but originally it was fashion design. My mom loved decorating, and I grew up in a home infused with art, objects and an appreciation for different cultures that have greatly influenced my design style. I became interested in vintage furnishings after inheriting so many pieces from my mom — you just can't beat the quality. Under the influence of my childhood home, I was drawn to African, Asian, Indian, Italian, and Moroccan pieces. So quite naturally, at the shop I offer an artistic collection of designer and designer inspired vintage home decor and furnishings (furniture, lighting, art, decor) in fresh color combinations and graphic patterns mixed with ethnic pieces for a soulful feel. We are a boutique shop and our vintage pieces are 20 years or older and have been handpicked for their individual character, detail, history, and unique appeal. Our Inventory changes weekly and new arrivals are posted to our Instagram for first dibs.

Q: What types of design services are you currently offering?
AB: I offer Styling Services, New Home Consultations, and In-Home Color Consultations
Q: Did you have business experience before you started the business?
AB: Yes, I helped my husband open his chiropractic office which was a great blueprint.
Q: What has surprised you about business ownership?
AB: The long hours, the amount of time I spend working on and working in my business - which are two very different roles.  
Q: What advice would you give to young women who want to pursue their dream and start a business? 
AB: Go for it! Start building the business after work and on the weekends. Try your product and/or service with friends and family. Work out all the issues and then try a trade show. Build the business and demand before taking the leap. 
Q: What kinds of changes have you made with Covid-19?
AB: I've added private and virtual shopping appointments. I also moved a lot of my inventory online.
Q: After high school, where did you feel your career path would take you?  
AB: After high school, I just knew I was going to college to become a fashion buyer. 
Q: What is one word of advice you can offer to young women who want to reach your level of success?
AB: Define what success means to you and then celebrate every small win. 
Q: What's one lesson you've learned in your career that you can share with our audience?
AB: It's okay to say no, not every opportunity is meant for you.
Q: Can you share which woman inspires you and why?

AB: There isn't just one, I admire any woman that bets on herself.  

Four Things About Ariene Bethea 

1. What is your favorite book to read? 
The Alchemist by Paulo Coelho
2. What would you sing at Karaoke night?
Shallow by Bradley Cooper
3. What app can't you live without?
Instagram for sure!
4. If you could go back in time, what year would you travel to and why? 
2000 before my mom was diagnosed with cancer. I'd love to have gotten to travel and see the world with her. She would have loved to help me with the shop, she had a great eye for things.