Meet Corporate Counsel Attorney for Extended Stay America, Alexandria Andresen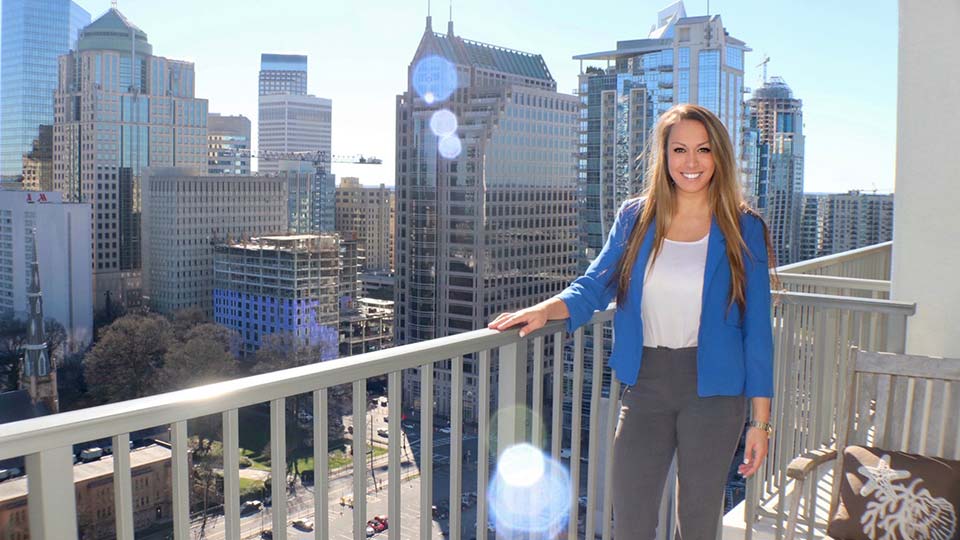 A Corporate Attorney With Experience Advising & Partnering With Large Corporations on a Variety Legal Issues & Business Strategies.
Q: When did you know you would pursue a career as an Attorney?
AA: Ever since I could remember, I loved to write. I have always felt more comfortable articulating my thoughts in writing than in any other form. My parents would tell you that anytime I got upset as a child, I would go to my room and write until I felt better. I eventually discovered that another one of strengths was analyzing problems and advising others on how to resolve those problems. Putting these two skills together, attorneys read, write, analyze problems, and advise others on how to resolve those problems every single day. I realized this while in college and decided that this would be a career path that would make me the happiest and contribute the most of my skills to society.
Q: What expectations did you have after graduating and receiving your law degree?
AA: After law school, I thought that I would join a large law firm, work my way up to partner, and then become in-house counsel for a large corporation later in life. This is the usual "expected" path for an aspiring lawyer. This is not how it worked out, as I did not land the big law job that I initially thought I wanted, but instead became in-house counsel much earlier than expected. I am very happy with how my current path turned out and wouldn't change it for anything.
Q: As Corporate Counsel for Extended Stay America, Can you share with our audience, the types of law you specialize in?
AA: As an attorney for a hotel company, I have the opportunity to practice all different types of law every day. For example, I work directly with almost every team that supports our hotel business and our hotel manager directly. I have the opportunity to provide our business teams and hotel management with legal advice that has a direct impact on the business. I also help manage the company's litigation. I enjoy being Corporate Counsel because I act as a business partner as well as a lawyer. 
Q: What aspects of the daily job of being a lawyer interest you the most?
AA: While practicing law, one is exposed to a variety of unexpected challenges and often needs to be creative in how to resolve these issues. I am fortunate that I have the ability in my role as Corporate Counsel to advise my clients on legal aspects of business while also being creative in attacking any unexpected challenges that may arise. There is never a dull day or moment, which I thoroughly appreciate.
Q: Were there moments in your career that were pivotal to getting where you are today?
AA: Two years after I graduated from law school, my law school was shut down by the American Bar Association ("ABA") – the accrediting body for law schools. The ABA shut down Charlotte School of Law because it believed that the law school was accepting too many individuals who were underqualified for law school, who ultimately could not pass the bar exam, and therefore, could not pay back their student loans. Whether or not this was true, I was questioned by peers, coworkers, and individuals not in the legal field about the school's shutdown and the affect that this had on my degree and my career. After building my own personal brand for three years while in law school, achieving several notable accolades including Law Review Executive Board, ABA President, graduating at the highest academic honor level possible, being elected as my class speaker at my graduation, and passing the bar exam on the first try, I now felt like I was starting from square one as if I never attended an actual law school. Eventually, I realized that school shutdown or not, the name on my law school diploma did not define my value, my work product, or me as a person.
Q: What was your first job? And how did it shape or impact you?
AA: I worked for a small business and entertainment law firm for the first year of my career. In this role, I had the opportunity to go to court frequently, arguing civil litigation in both district and superior state court. I also had the opportunity to work with many entrepreneurs and business owners, helping them protect their businesses and intellectual property. This job impacted me because it helped me realize the type of law that I wanted to practice. While going to court was always fascinating and what someone would think the "typical lawyer" does every day (as seen on TV), my favorite part of this first job was advising business clients. This helped me recognize the path that I wanted to take, which was to advise businesses as corporate counsel.
Q: Can you tell us how you manage your work life balance?
AA: In the coronavirus pandemic era, managing work/life balance is a bit harder because since we have been constantly working from home, there is a thin line between work life and home life. I have tried not to let "work creep" take over, and have made certain times for breaks throughout the workday. I have consciously made time to spend with friends and family (even if via Zoom or FaceTime). I am fortunate to work for a company that cares about the mental health of all of its people, and checks in to make sure we are resting, taking time for ourselves, and not getting burnt out. 
Q: Which woman inspires you and why? 
AA: This may sound cliché, but my mother inspires me more than any other woman in the universe. Personally, she is an incredible mother, wife, and friend. Professionally, she is a medical doctor who attended medical school and became a doctor during a time when women were in the minority for this caliber of education and work. While she raised me, she constantly emphasized the importance of education and creating great work in life. She is always meeting new people, learning new skills, and becoming a better version of herself (even though she is already the best). She is the strongest, smartest, and most passionate woman that I know; I can only hope to be half the woman that my mom is.
Q: What are some of the challenges you feel women face today?
AA: I believe that women have come a long way in demanding equality; however, no matter how many laws are passed, how many speak up for women's rights, and how many marches are held, there is still an implicit bias that is present based on women's expected perception in society. For example, women have huge societal pressure to constantly be "liked." This can be a limitation for women who want to speak up against status quo, or for a woman who disagrees with the rest of the room during a meeting. I think women are making progress towards overcoming this societal expectation that can sometimes be a shortcoming, but it will just take continued awareness, mentorship, and time for this type of implicit bias to completely disappear.
Q: What advice would you give to young women who want to pursue a career as an 
Attorney?
AA: Set hefty goals, pursue them fiercely, and be flexible about your path forward. Not everything will go exactly the way you expect it to, but you will find that your persistence and ability to adapt will be your most valuable assets. 

Five Things About Alexandria Andresen

1. If you could talk to one famous person past or present, who would it be and why? 
Michael Jordan. Like any other kid growing up in the '90's, I've always looked up to Michael, admired his relentless work ethic, and wanted to be just "Like Mike." I also played basketball starting at an early age, with a great deal of influence from my brother, who also looked up to Michael. One of my favorite show that came out during quarantine was his documentary, "The Last Dance." And going to school in Wilmington, North Carolina, I always thought it was fascinating that he grew up in that small town and became the greatest basketball player there ever was. Now living in Charlotte, I am a Hornets basketball fan and Michael is a notable member of the Charlotte community given his ownership of the team. I would also love to hear perspective on how it was filming Space Jam and the challenge of acting with imaginary Warner Brothers cartoon characters. 
2. What were you like as a student?
A self-admitted gunner. A "gunner" is the annoying, overly competitive, borderline obsessive student who sits front and center in every class, sucks up to professors, and raises her hand to answer every single question. I was highly competitive and a gunner, but I feel that this helped me obtain some of the opportunities that I did during after law school.
3. If you were a superhero, what would your special powers be? 
I would love the superpower of teleportation. I love to travel because it exposes us to people, places, and things that we would not otherwise encounter in our normal life and truly expands our horizons. While traveling is wonderful, sometimes the process of getting to and coming back from a travel destination can be exhausting, which is why I would like nothing more than to have the special power of teleportation.
4. What app can't you live without?
This is probably weird, but the Apple Notes app is one that I absolutely could not live without. I use this app for various reasons, but mostly to jot down lists, reminders, quotes, and memories that I want to recall later down the road. 
5. Do you have any hobbies?
When not lawyering, I am usually spending time with family and friends, doing some type of physical activity (running, tennis, barre), reading, and traveling when I can. During quarantine, I've also picked up a new hobby of cooking that I never previously fancied, but very much enjoy doing now that I've been able to slow down and take time to try and learn something new.